17+ Best Scheduling Software of 2020 Reviews (Ultimate Guide)
Businesses and professionals are continually striving to make their workflows more efficient, robust, and reliable. The best scheduling software is playing a larger and larger role.
Today, businesses have to deal with tons of meetings, appointments, employee scheduling, workforce management, and other complex business processes. It becomes daunting for both individuals and businesses to keep track of the schedule and ensure business efficiency.
And typical systems are not enough to manage messages from emails, texts, and other digital channels.
In such cases, professionals and organizations need a smart system to make things smooth and organized at the workplace.
And this is where scheduling software comes into play.
A good scheduling tool can help businesses increase customer engagement, optimize resource and project management, and streamline business operations. Organizations can also leverage scheduling software to minimize paperwork, workflow gaps, and please their customers to make more money online.
To help you out, I ranked and reviewed the best scheduling software available today.
Let's get started.
Disclaimer: This article contains affiliate links that I receive a small commission for at no cost to you. However, these are merely the tools I fully recommend when it comes to scheduling software. You can read my full affiliate disclosure in my privacy policy.
What is the Best Scheduling Software?
Here's a list of some of the best scheduling tools, along with their key features, pros, cons, and pricing plans.
What is Scheduling Software?
Scheduling software is a software-as-a-service (SaaS) tool perfect to help businesses manage appointments, bookings, employee scheduling, or project management tasks.
Moreover, it's capable of automating the process of scheduling appointments along with a lot of other features, including cancellation of bookings, online payments, helping you connect with different stakeholders, and more. It also allows businesses to eliminate mistakes, miscommunications, and duplicate reservations.
If you want your enterprise to become more customer-friendly and agile, then you might also want to try out one of the scheduling platforms mentioned in this article.
What Should You Look For in Scheduling Software?
When you start your search for the right software solutions, you are likely to get overwhelmed by all the options available. It becomes challenging to figure out the key differentiators and make the right decision.
Here are a few essential points that you must consider while searching for the right scheduling software:
1. Scheduling Features.
Most online scheduling software platforms come with numerous attractive features and elements. But you need to choose the one whose features meet all your requirements. Look for a scheduling software tool that offers functionalities that are capable of making your business process smooth and efficient. Don't get swayed by extraordinary features, instead put your priorities first.
2. Third-Party Integrations.
Make sure that the scheduling platform you choose offers robust and seamless integration with website, social media applications, and other third-party applications. It would help you keep omnichannel connect with resources and customers.
Take InviteOnce, for instance: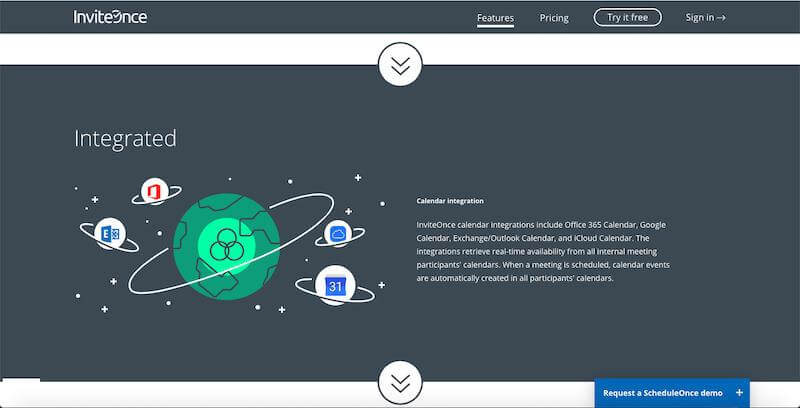 It enables integration with vital third-party tools like Office 365 Calendar, Google Calendar, Exchange/Outlook Calendar, and iCloud Calendar. These integrations allow InviteOnce to retrieve real-time availability and make things more streamlined.
3. Compatibility.
Make sure to look for a scheduling platform that provides efficient compatibility with all platforms and devices. You might also want to look for an option that offers a mobile app to ensure smooth and seamless access to your entire business schedule.
4. Scalability.
If you are a small business but riding on a high growth rate, then it would be wise to go for highly scalable scheduling software. It is essential to ensure that the platform would be able to meet your expanding requirements in the future. Therefore, check the number of users it supports and how many customers it can handle in a single point in time.
5. Customer Support.
Look for a scheduling platform that offers omnichannel customer support to help resolve issues. Also, make sure to check whether the platform assists with the setup or not.
Consider these points to judge each option more critically and single out suitable options easily.
So, there you have it — some of the best scheduling software available online today. However, to make the right pick, you first need to analyze the requirements of your organization.
Here are a few points that you must keep in mind before selecting the right scheduling software:
Number of Employees: If you are a freelancer or run a business with a small team, then select the free version that offers decent features. However, if you have a company with a bigger team, then go for an enterprise plan that provides the best value for your money.
Type of Business: Your business might require the software for the booking of tickets, appointment scheduling, or distribution of tasks. Select a platform that meets your specific scheduling needs instead of going for a tool that offers loads of useless features.
Budget: Make sure that the platform you choose is under your budget and offers the best value for money. Compare prices against features of other options to get the best bargain. Look for free versions if you have a small team or simple requirement.
Ponder over these points and analyze each tool critically.
When it comes to scheduling meetings and other vital business tasks, there's no simple way of managing everything. The best thing you can do is take the assistance of a scheduling platform to streamline your business meetings for you.
Would you be using any scheduling platform from this list? Please share your favorites in a comment below.