15 Best Podcast Hosting Sites for 2020 (with Top 5 Free)
Are you dreaming of starting the next hugely successful podcast and sharing your audio content with the world? That's great! However, podcasting isn't as simple as recording some audio and uploading it to iTunes – first; you have to host your audio files with podcast hosting.
With 100 million+ podcast listeners in the US, all podcasters have to start by choosing their podcast hosting provider of choice.
And choosing the best option can be a time-consuming and frustrating task. There are a ton of options out there with similar features.
How do you pick the best one?
I want to make your choice more accessible by providing information on the best podcast hosting to help you find the perfect fit for your new podcast. There are free options, enterprise options, and everything in between – it all depends on what you want to create.
I ranked and reviewed these companies based on price, reliability, technical support, monthly upload volume, compliance, storage, monetization, ease of use, marketing features, integrations with apps, and more.
And if you're looking to start a blog first, you can check out my other guide to choose the best web hosting.
Let's get started.
Disclaimer: This article contains affiliate links that I receive a small commission for at no cost to you. However, these are merely the tools I fully recommend when it comes to podcast hosting. You can read my full affiliate disclosure in my privacy policy.
Podcast hosting provides the file hosting and RSS feed for your podcast. Hosting companies upload your audio files, tell the hosting platform your show's details, and generate your feed. When a user subscribes to your podcast, the podcast host sends the audio files and media to the platforms directly.
A podcast is a series of audio files that are bundled into a single file. Naturally, they require a lot of space and bandwidth to be stored. However, personal website servers don't have the amount of storage needed for files that large.
Podcast hosting sites offer you the space to store your files so that your audience can easily download them.
In the end, it's a simple setup. It's made up of a webserver to allow file downloads, the .mp3 files themselves, and an RSS feed describing your audio file. The best providers do much more than that.
They provide advanced analytics reports on your listeners, marketing tools to grow your audience, social sharing options, 24/7 support, and more.
Additionally, podcast hosting sites may include features like streaming compliance, file storage, and unlimited bandwidth. They can also help you with a free website and domain.
When thinking of podcasts, I'm sure you've heard of places like iTunes or TuneIn, but these are podcast directories. Your podcast needs a host first.
It's crucial to understand the importance of a good podcast host when starting a brand new podcast.
What is the Best Podcast Hosting?
The best podcast hosting companies are Buzzsprout, Transistor, PodBean, Simplecast, Captivate, Spreaker, Castos, Podcastics, Fusebox, Libsyn, and Blubrry. It's exciting to start a new podcast. You get to create the podcast episodes you're interested in producing, buy shiny new equipment, record audio, and share your very own podcast with the world.
But don't forget you have to start by choosing a platform. Different podcasters will require various hosting services, and there isn't a one-size-fits-all approach.
This guide will provide you with the best options to save you time, so you have to focus on recording great podcasts.
Here are my top picks for the best podcast hosting in 2020.
The Best Podcast Hosting for Beginners (Free – $12/month + $20 Amazon Gift Card).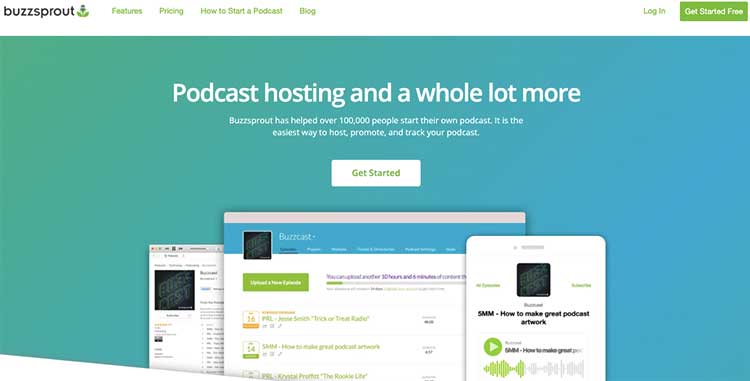 Buzzsprout is my #1 pick for many reasons.
They're a host that's been in business since 2009 and are trusted by over 100,000 podcasters. Plus, they're one of the only companies that offer a totally free plan with unlimited team member accounts.
Their free plan only allows you to upload two hours of content hosted for 90 days. If you're serious about podcasting, you can scale up and upgrade your plan based on how many hours of content you need to upload per month. 
When you upgrade to one of their paid plans ranging from $12-24 per month, Buzzsprout hosts your files indefinitely and gives you unlimited storage and 250GB of bandwidth per month (enough for 20,000 to 40,000 downloads).
Let's move onto some of their standout features.
Buzzsprout allows you to embed a podcast player right on your website – and you can feature just one episode or a whole playlist of episodes: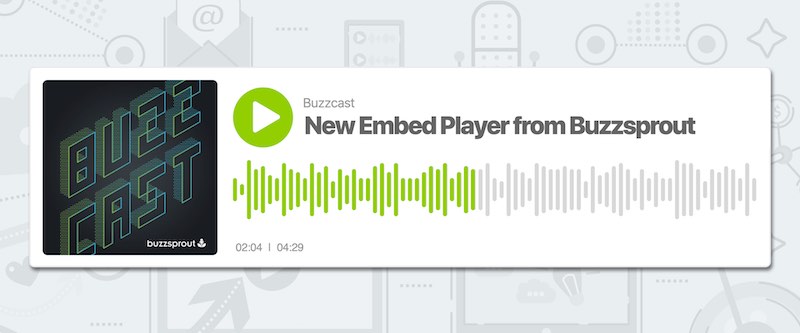 They offer an easy-to-use analytics dashboard with an algorithm that estimates how many listeners each episode receives within the first 90 days. You can also view which countries your listeners are tuning in from to help you understand your audience. These analytics features are super helpful and better than most other tools on this list.
Audio quality is also great as you can upgrade to 128k stereo optimization for better sound. Not only that, but they also offer podcast transcription services as an extra add-on.
They make it super easy to upload and schedule your podcast too. You simply upload your audio file, change the episode title and description, and submit your podcast to all significant directories: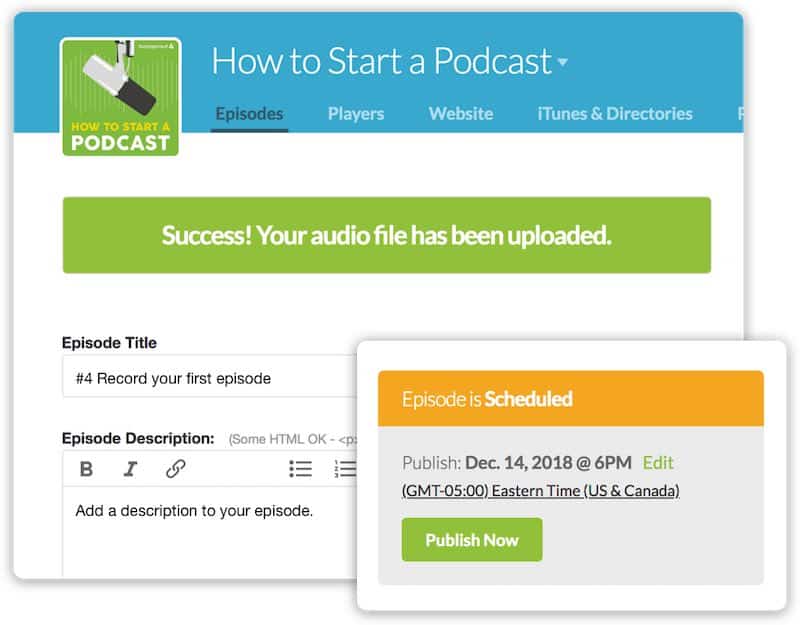 Another benefit is that you can easily add episode chapter markers. This feature helps listeners better understand quick details about your episodes at a glance. These aren't required (and don't appear on every podcast app), but are a nice feature nonetheless: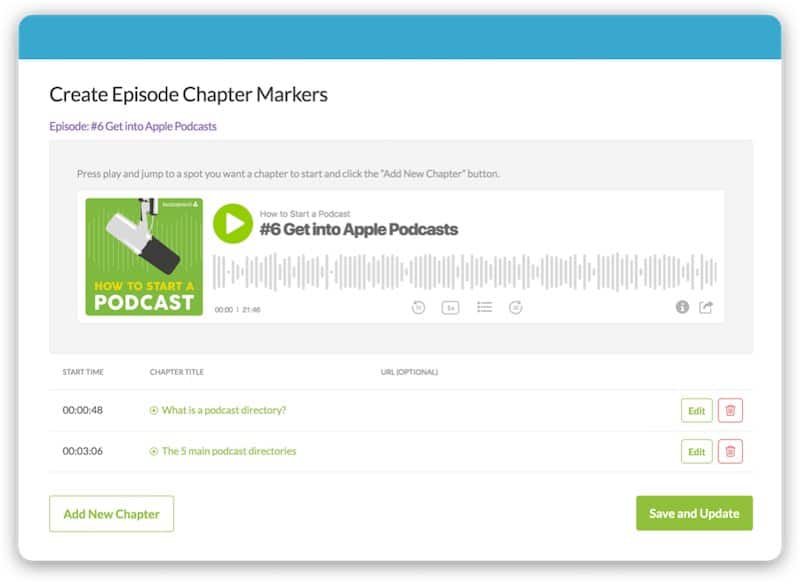 Ultimately, with their month-to-month pricing and an easy-to-use dashboard, Buzzsprout is my #1 choice.
I recommend you get started for free and then upgrade to any plan you want based on how many hours of content you plan to upload each month.
As an added bonus for my readers, when you sign up for Buzzsprout and upgrade, you get a free $20 Amazon gift card. 🙂
Best Built-In Podcast Analytics ($19-99/month).
Transistor.fm is a high-quality, professional service that hosts some popular podcasts including Drift, Honeybadger, and Cards Against Humanity.
They are known to provide their podcasters with absolutely everything you need to grow your podcast audience. Tools include hosting unlimited shows, managing multiple users per account, generating branded websites your own domain name, distributing your podcast, and viewing advanced analytics.
Their analytics tools are where they stand out. Their dashboards show you trends and stats like average downloads per episode, the number of subscribers, and downloads over time. 
Additionally, if you use another hosting platform like Libsyn or Anchor, you can easily import your existing feed into Transistor with simple migration tools. 
Here are some details on their three pricing plans:
Starter Plan ($19/month): Provides unlimited podcasts and episodes, up to 2 users, and 10,000 downloads per month.
Professional Plan ($49/month): Everything in the starter plan, but now with up to five team members and 50,000 downloads per month.
Business Plan ($99/month): All features in the previous plans, but with up to 10 team members and 150,000 downloads per month.
Transistor allows you to scale your podcast (and pricing) as your audience grows.
In the end, your plan choice will most likely depend on the number of downloads you need per month, so you can get started with their Starter Plan and upgrade when you need to. 
If you take podcast analytics seriously, start your 14-day free trial of Transistor (and get 2 months free when paid annually).
Best Easy Podcast Hosting Powering Over 225,000 Podcasters Worldwide ($29/Month + 1 Month Free).
PodBean is my #2 recommendation, with unlimited hosting services, distribution and promotion on iTunes, Google Play, Spotify, Amazon Alexa, and all the major apps and directories.
PodBean has been in the podcasting hosting space for over 10 years and is touted as one of the easiest-to-use hosts on this list. 
To get started, they too have a free plan. On this tier, you can upload up to 5 hours of content per month, but are only allowed 100GB of bandwidth. This open-source plan gives you some basic stats, but you need to upgrade to their $9/month plan to get more detailed analytics.
They boast a vast amount of podcasters, episodes hosted, and over 7.1 billion downloads on their platform (as of May 2020):
I recommend podcasters serious about running their professional show get their $29/month PodBean Unlimited Plus Plan. This plan is much better than the free option and gives you all of their great video features.
With this plan, you get unlimited audio hosting and video storage.
Second, you can dynamically add your own sponsored ad campaigns into your new episodes to monetize your podcast faster. This plan also allows for a Patreon program to accept recurring revenue from listener support.
Another excellent feature for PodBean users is a free YouTube version of their podcast. This version is auto-uploaded to your YouTube channel once you sync your channel when publishing.
Finally, PodBean provides a mobile app, analytics reports, and automatic posting to Facebook and Twitter too.
Overall, PodBean is my #3 choice and the best easy podcast host with great video and YouTube features.
Industry-Leading Features Powering Top Brands ($15/Month).
Simplecast is known for is its industry-leading features starting at just $15/month.
They live up to their name and state on their website:
"From your first listener to your first million, Simplecast provides powerful tools needed to manage, distribute, share, and grow your podcast."
Simplecast has been around for over six years and powers some of the largest brands in podcasting, including Kickstarter, Nike, Facebook, and HBO.
They give their podcasters powerful tools at any stage of podcasting with one-click publishing, different web players, a fully-functioning website, and advanced analytics tools.
One standout feature is their Recast™ tool, which allows you to schedule and share clips of your podcast on social media. Here's an example of that feature from The Pilot Podcast on Instagram:
Another excellent feature is the ability to collaborate with multiple podcast managers in one account. You also get unlimited storage, unlimited uploads, and distribution to all major platforms.
Simplecast has three paid plans to choose from:
Basic Plan ($15/month): Unlimited storage and uploads, two member accounts, customizable show website, 20k downloads per month, an embeddable web player, and email support. 
Essential Plan ($35/month): All basic plan features, plus two extra user seats, additional web players, location (country and state/region) and technology (apps, browsers) analytics, 50k downloads per month, and the addition of chat support. 
Growth Plan ($85/month): All features of previous plans, plus 5 more extra user seats (9 total), ISP analytics, detailed metro area location analytics, and 120k downloads per month. 
Ultimately, if you're just starting out, the Basic Plan will work out for you just fine. While the analytics tools are cool, you only need to upgrade if you need more users or downloads per month. 
For industry-leading podasting on a budget, get started with a 14-day free trial of Simplecast.
Best for Marketing and Growing Your Audience ($19/Month).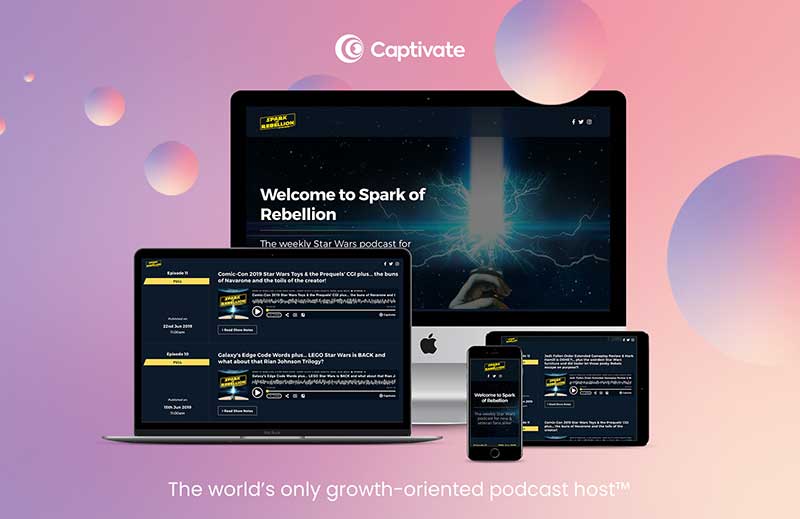 Captivate is a brand new podcast host that is hyper-focused on growing podcast audiences. They were created by Rebel Base Media, which also runs Podcast Websites. This new addition is their best product yet, as they took everything they learned from years of podcast experience and putting into one new podcast hosting product.
All plans come with an unlimited number of podcasts, unlimited team members, a new podcast player, advanced analytics, and marketing tools.
A few standout growth features are their automatic podcast website and built-in calls to action. Every plan comes with a customizable, mobile-friendly website with donation support built-in. Second, you can build your email list and generate new leads with podcast player calls to action. For example, if someone is listening to your podcast player, they can sign-up directly to your email list via an opt-in form.
Captivate is also constantly upgrading its analytics software. They work with the Interactive Advertising Bureau (IAB) to create more insightful intelligence to monitor the performance of your show.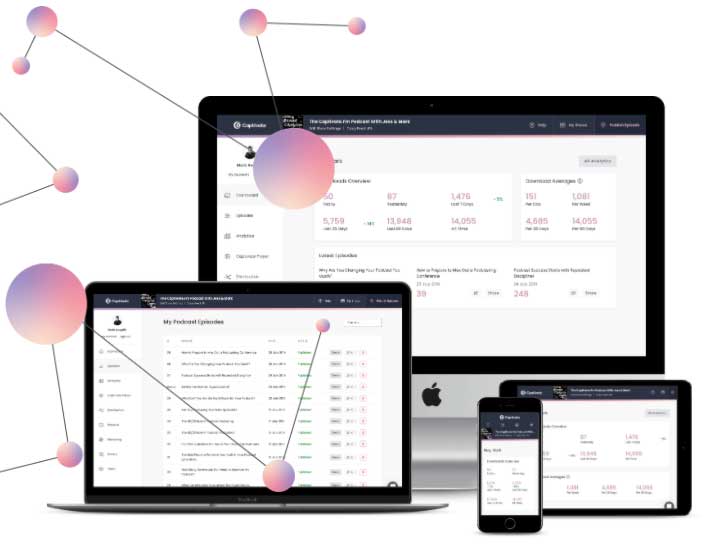 You can also easily import your show from another podcast host like Blubrry with one simple import tool. Their podcast marketing tool allows you to automatically generate links to places like Overcast and Pocket Casts, which helps new subscribers find your show easily.
Captivate offers three plans based on your number of monthly downloads:
Podcaster Plan ($19/month): Up to 12,000 downloads per month.
Audio Influencer Plan ($49/month): Up to 60,000 downloads per month.
Podcast Brand Plan ($99/month): Up to 150,000 downloads per month.
With a ton of great podcasting features in every plan and simple pricing that scales as you grow, Captivate is going to make waves as a new player in the space.
If you're looking for a growth-oriented podcast host with lots of marketing features, get a 7-day free trial of Captivate.
Best Storage Capacity ($18/Month + One Month Free).
Spreaker is a mobile-focused site with its Speaker Studio tool available for both desktop and mobile devices.
Their free basic plan is pretty limited, with 5 hours of storage and a single session allowance of 15 minutes. You need to upgrade to one of their three plans to get more storage and unlimited streaming.
Their paid plans have some strong features like the ability to embed widgets on your website, schedule episodes, and even order your mobile app.
Their On-Air Talent, Broadcaster, and Anchorman plans have great features. All plans give podcasters private episode sharing, show intro insertions for ads, and ad revenue sharing for monetization.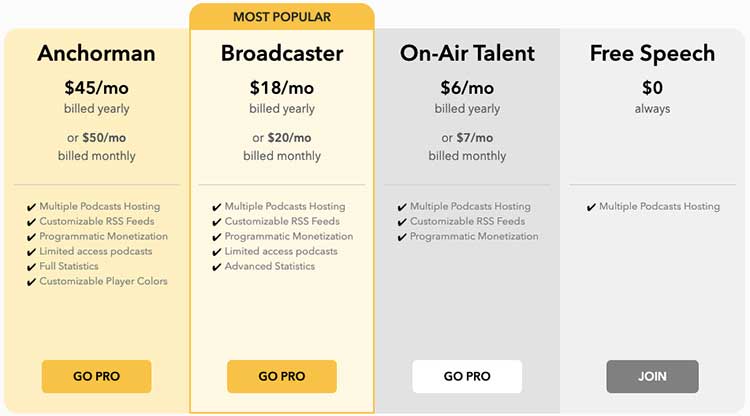 Additionally, Spreaker provides excellent storage capacity. Their most popular plan is the Broadcaster Plan at $18/month. With that plan, you get 500 hours of audio and 3 hours per live podcast. Joe Rogan-length-status achieved.
Overall, if you're looking for a host that provides great storage, Spreaker is a good choice.
As a bonus, my readers get one month free when you sign up for Spreaker.
Best WordPress Podcast Hosting Solution ($19/month).
Castos is a full-featured podcasting plugin for WordPress.
If you already have a WordPress site, here's how it works:
You go to the Castos website and start your 14-day trial.
Install their WordPress plugin.
Next, when you're ready to host your episodes, you add them into the new Podcast section inside of WordPress:
Upload your audio file, type in your description, and the podcast will go live on your site with a customizable media player:
That's it. When you're ready to add your podcast to directories, you grab your URL and add it to any publisher you'd like.
Their plans range from $19 to $49 per month. With the higher tier plans, you can republish to YouTube and get full podcast video hosting.
Another great feature is automatic transcription – when you upload your audio file, it returns a transcription to your Castos dashboard within a few minutes. You can either copy and paste this transcription into WordPress, or download the PDF version and add it to your site.
If you're looking for podcast hosting with great WordPress integration, Castos is a good choice.
Get started with a free 14-day trial and save with 2-months free on annual plans.
Best for Easy Email Marketing Integrations ($49/month).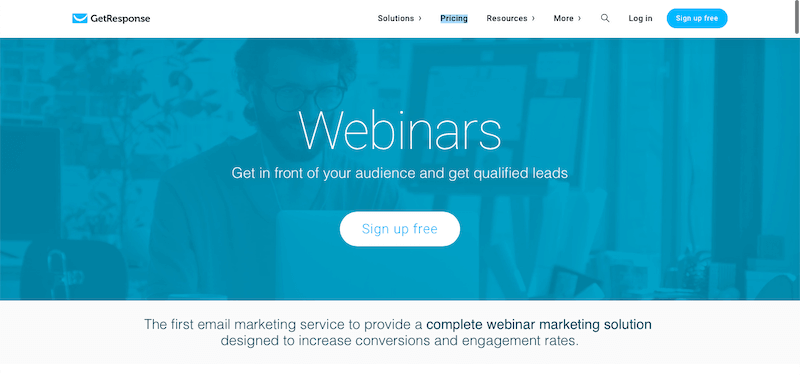 GetResponse is primarily an email marketing platform that offers a wide array of marketing solutions, including a complete webinar marketing solution. It allows you to set up your webinar within three minutes, sometimes even less. Other marketing tools include autoresponders, automated email marketing, Landing pages, list segmentation, and more.
Availability of email list and webinar solution under one roof comes in handy as it allows you to follow-up messages right away after the webinar. Moreover, you can also send reminders and thank-you messages to the registrants.
KEY FEATURES:
It allows you to customize your webinar URL.
Pre-existing webinar invitations and reminder templates with pre-filled webinar details.
One-click webinar recording.
Text chat feature to drive engagement.
One-click sharing options.
It allows you to set up autoresponders.
Tracks conversion stats and provides detailed audience statistics.
PRICING PACKAGES:
GetResponse has a free 30-day trial and a Basic plan that doesn't include webinar features. Their Plus plan is the first one that provides webinar solutions and starts at $49 per month for up to 100 attendees.
The Professional plan is $99 per month for up to 300 people and the Enterprise package is $1,199 for up to 500 people. However, it also includes email campaign consulting and a dedicated account manager.
CONS:
Free-trial provides space for up to 1,000 contacts only.
Customer support doesn't include phone support.
The pricing structure is somewhat complicated. The prices increase exponentially along with your list size.
New Podcast Hosting with Unlimited Episodes (Free – $49/month)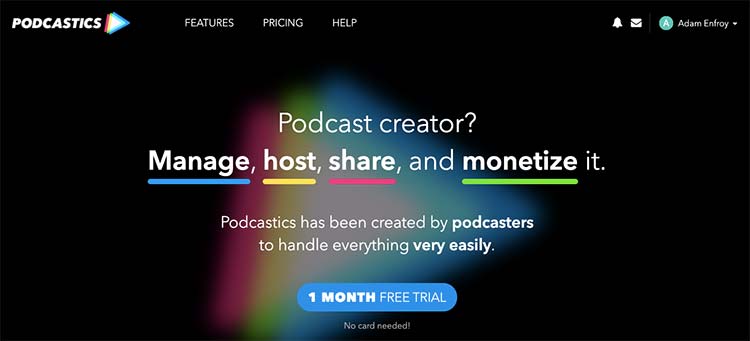 Podcastics is a new podcast hosting option that's very easy to use and offers competitive features. 
Like PodBean, their dashboard is very intuitive. When you first get started, you can set your podcast details with just a few clicks and quickly manage user permissions. If you already have a podcast, you can automatically import it from Apple Podcasts or from any RSS feed. 
And if you're a podcaster with multiple podcasts, you can build teams within the dashboard, which is great for studios and agencies. 
Some of their other main features include:
Podcast analytics, including plays, days and hours, sources, and locations.
Live streaming capabilities.
Podcast and episode editing tools.
The ability to schedule episodes.
Smart features like QR codes, smart links, surveys, and heat maps.
Podcastics has 5 pricing plans – all offering unlimited episodes. However, unlimited bandwidth and storage start at their $11/month Pro Plan. 
Overall, Podcastics is a new, easy-to-use podcast hosting tool with great UX, smart features, and analytics. 
Get started with a 30-day trial. 
The Best Toolbox of Podcasting Software ($8/Month).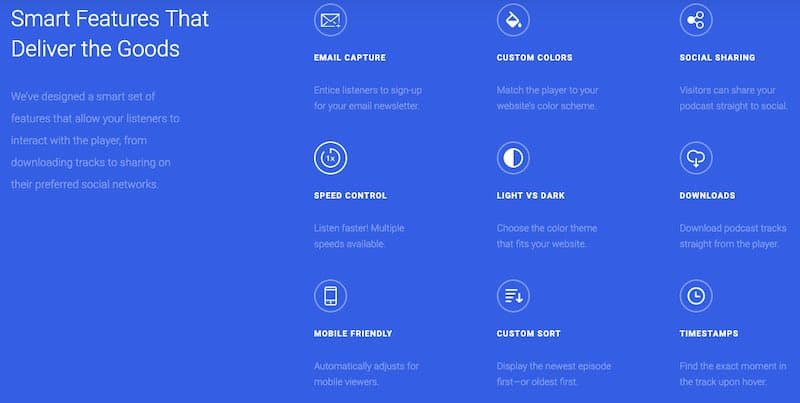 Fusebox is a great invention created by famous podcaster Pat Flynn of Smart Passive Income. After years of podcasting, he was looking for the best possible podcast player for your website that your visitors will love.
Who better to create the perfect podcasting product than a prolific podcaster himself?
Fusebox has a lot of great features, including email capture (one of the only podcast players to offer this) and other top-notch features:
They also have a transcript plugin with SEO-friendly live text that automatically adds podcast transcripts to your website.
And if you're interested in how the player works, it's very straightforward.
You install the Fusebox WordPress plugin and add your RSS feed. Next, you enter your subscription URLs to push your show to the major directories. Finally, you customize the colors of your podcast player, and then add the player to your posts and pages.
Overall, if you want to host your files, send them to podcast networks, and display them on your WordPress website, try Fusebox.
If you're looking to add some great podcasting tools to your arsenal, check out Fusebox.
Best Podcast Hosting Platform for Website Builders ($67/month).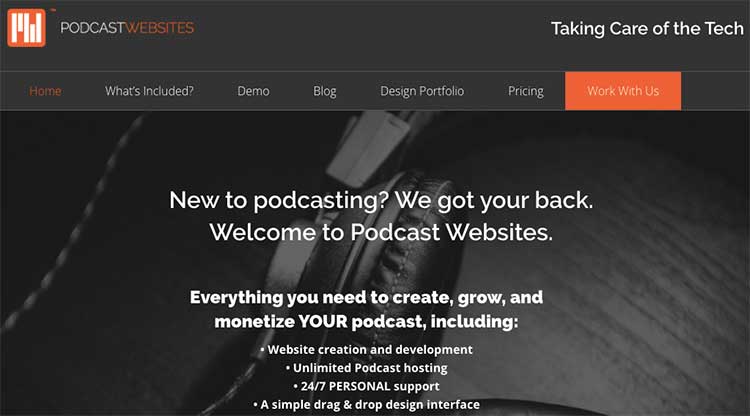 This podcast host features a simple podcasting workflow that allows podcasters access to the fully responsive website hosting and security, daily backups, built-in statistics, and 24/7 support.
As a Podcast Websites member, you also receive digital marketing support to help promote your podcast, ads, and podcasting advice from real, experienced podcasters. Their academy features video tutorials, media, and a helpful community forum to discuss strategies with other podcasters too.
Additionally, you can use Builder – a drag and drop website builder with themes unique to podcasters. These themes are mobile-friendly, and you can also add landing pages when you need to market your podcast.
Podcast Websites is a high-quality podcast hosting option and you can use my coupon code HOSTME to get $10 off per month for life.
11. Audioboom.
Best for Dynamic Ads and Monetization ($9.99/month).
Audioboom is a popular site that gives you simple hosting, distribution, and an embedded player. What they're primarily known for is their help with podcast monetization.
Once you hit 10k plays per episode, they provide tools to create dynamic ads and sponsorships for your show.
Some other features include an embeddable player with social media integrations and analytics broken down by geographic region, app, and device.
To get started, their $9.99 plan gives you: 
Unlimited episode uploads per month
Up to 10k per month with their standard plan and 25,000 plays per month with their plus plan
Advanced analytics that provides breakdowns by geographic area, app, and device
Embeddable players for a website or social media integration
Overall, Audioboom is a solid podcast host with good monetization features. 
What is the Best Free Podcast Hosting?
There are low cost and even free options you can pick from if your budget is tight. Many of the free plans come with limited functionality, but if you're starting, free hosting services a great way to test out their features.
You might not be able to host hours of content on your podcast server, but a free trial or free plan can get your feet wet in how podcast hosts work.
Here are my picks for the best free podcast hosting.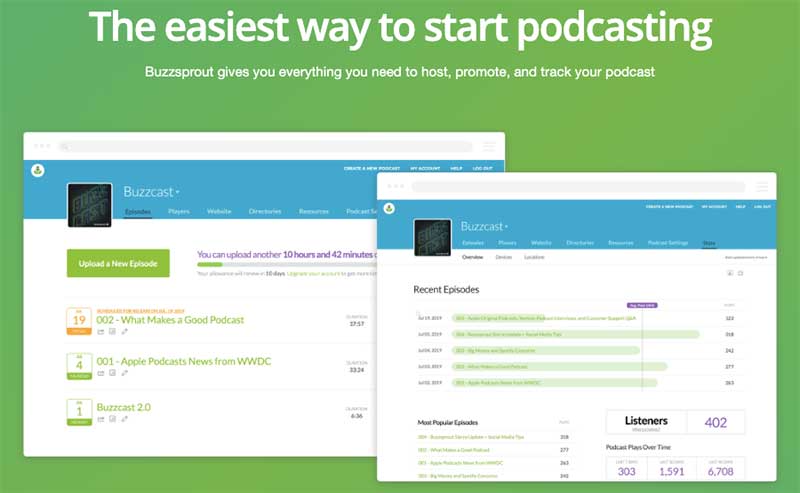 Buzzsprout's free podcast hosting plan provides the most features compared to every other host on this list.
With their free plan, you get two free hours of upload time, hosted episodes for up to 90 days, and a complete podcasting dashboard. If you are just getting started in podcasting, the Buzzsprout free plan is the perfect way to get your feet wet in podcasting and learn the ropes.
When they say they're the "easiest way to start podcasting" they're not lying. With Buzzsprout, you can easily upload your file, add them to every major directory, and start tracking your listeners with their advanced analytics.
Pricing: Free – $24/month
Website: buzzsprout.com
2. Libsyn.
Libsyn is one of the most popular hosts focused on helping everyone from novices to podcasting pros looking to monetize their work quickly. They are also one of the original podcast hosts, launching in 2004.
With over 35,000 hosted podcasts, 62 million+ audience members, and 4.6 billion podcast downloads in 2016, they are a prominent player in the space. Like other podcast hosts, they give their users between 50 and 1500MB of monthly storage, provide analytics reports, RSS link generation, premium content, and their app.
Yes, they aren't 100% free as their plans start at $5, but for that value, I had to add them to the list.
Pricing: $5 – $75 per month
Website: www.libsyn.com
3. SoundCloud.

SoundCloud is the world's largest music and audio hosting site and introduced its hosting platform in 2015. They boast 175 million unique monthly visitors and an incredible 12 hours of content uploaded every minute on their website.
Using their hosting services, you get access to all of their embedded players, Twitter cards, and timed comments. With a free account, you can upload 3 hours of content per month and get basic reporting.
The more advanced SoundCloud Pro Unlimited account gives you unlimited upload time, scheduled releases, embed controls, and the ability to pin five podcasts to your profile.
Price: Free to $16 per month ($12 when paid annually)
Website: www.soundcloud.com
4. Podomatic.

Podomatic allows creators to record, upload, and promote your new audio content, all in one dashboard. One of their strengths is the ability to develop your podcast advertising and crowdsourcing with the help of Patreon and Advertisecast.
Plus, Podomatic has social sharing options, and your podcast can be played directly on Facebook and Twitter feeds. They are partnered with Weebly to help you create a website and have a free podcast app for iOS and Android.
In addition to their free plan, they have four pro plans ranging from $9.99 to $24.99 per month.
Pricing: Free to $60+ per month
Website: www.podomatic.com
Best WP Podcast Hosting Runner-Up ($12-80/month).
Blubrry is a great podcast hosting service that offers not only hosting but managed WordPress hosting with PowerPress, the #1 WordPress plugin for podcasters. With over 75,000+ active installs, this plugin is consistently maintained, free to use, and offers SEO options, and MP3 tagging.
The Blubrry website says, "Blubrry believes we should provide you great tools and not interfere," highlighting their creator-first approach. They offer a podcasting manual, which gives you a ton of detailed information on using their services, as well as tips and advice to succeed with your new podcast.
Their lowest cost option is $12/month and offers 100MB of storage. If you want unlimited hosting services, you can upgrade to their professional plan.
In addition to their professional plan with custom pricing, they have four paid plans ranging from $12 to $80, which offer anywhere from the 100MB to 1,000MB/month of storage space.
Blubrry is quickly becoming one of the top-rated choices because of their customer-first approach. They are also IAB compliant according to the Interactive Advertising Bureau.
Disclaimer: This article contains affiliate links that I receive a small commission for at no cost to you. However, these are merely the tools I fully recommend when it comes to podcast hosting. You can read my full affiliate disclosure in my privacy policy.