Covid-19 has accelerated ecommerce by 5 years. At the same time, legacy brands with physical stores like Lord & Taylor and Century 21 are filing for bankruptcy.
The time to move your business online was yesterday.
In 2019, ecommerce had a 14.1% share in the global retail marketplace; by 2023, Statista projects that 22% of all retail transactions will take place online.
In hard money terms, sales in the U.S. could total more than $475 billion by 2024 — and that's just B2C.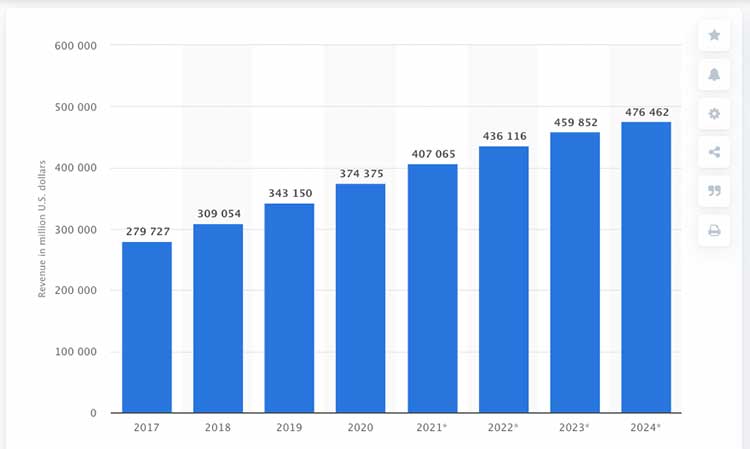 In this beginner's guide, we're going to cover how to set up and launch a thriving (and Covid-proof) ecommerce business.
We'll touch on everything you need to start your own ecommerce business, including:
How to research products to sell online.
Choosing your ecommerce business model.
Validating your product idea.
Registering and incorporating your company.
How to source your products.
Creating a business plan.
Choosing your ecommerce platform and launching your store.
Driving traffic to your ecommerce business.
Generating sales and measuring results.
By the time you're done reading, you'll know what it takes upfront to launch and run a successful online store.
Let's get started.
Disclaimer: I receive affiliate compensation for some of the links below at no cost to you. However, these are the best tools I have used and tested that I believe are most effective for launching and running an online business. You can read our full affiliate disclosure in our privacy policy.