27+ Best Web Hosting Services of 2020 (Providers Ranked)
When picking the best web hosting, there are thousands of service providers to compare.
And all provide different levels of features, performance, ease of use, and price ranges – not to mention different discounts and savings at checkout.
With all of the noise out there from both hosting companies jockeying for your attention, these web hosting reviews will give you two simple takeaways:
1. How to pick the best host for you.
2. How to save the most money at checkout with the most significant discounts (up to 90%).
I've been in digital marketing for over ten years and have set up sites, done site migrations, and managed more hosting providers than I can count.
And the truth is: unless you're a large site with thousands of pages and massive levels of traffic, plenty of hosts will work out for you just fine. It's 2019, and hosting technology, performance, and site speed keep getting better.
Whether you're starting a blog, an online store, local business, or enterprise brand, let's pick the best host and save money in the process.
Let's get started.
Disclaimer: This article contains affiliate links where I may receive a small commission for at no cost to you if you choose to purchase a plan from a link on this page. However, these are merely the tools I fully recommend when it comes to hosting a website. You can read my full affiliate disclosure in my privacy policy.
What is the Best Web Hosting?
The best web hosting services provide reliable site speed, security features, uptime, ease of use, and integrations that your website needs. My top picks are Bluehost, Hostinger, GreenGeeks, WP Engine, HostGator, Siteground, Cloudways, Dreamhost, iPage, and HostPapa.
Most hosting companies give you steep introductory discounts and make it easy to get started. My hosting reviews will show you the companies that match exactly what you need while saving you money in the process.
Here are my top picks for the best web hosting in 2020.
What is the Best Cheap Web Hosting?
Our best cheap web hosting comparisons include plans from $0.80 to $3.95 per month. These affordable plans provide high discounts and different term lengths. For example, you may get the $1.99 pricing but must sign up for three years – if you only want to pay for 12 months, the price goes up.
Also, renewal prices are usually higher than the discounted rate, so watch out for that.
The rankings on this page are strictly based on price. If you want to read more in-depth coverage, check out my full guide to the best cheap web hosting options to use this year.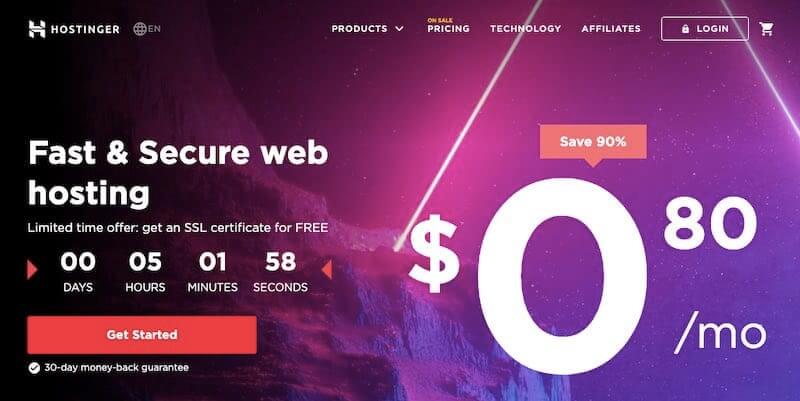 Here are my top picks for cheap web hosting: 
1. Hostinger Single Shared Hosting.
$0.80/Month for 4 Years.
Hostinger comes in at #1 on this list as the cheapest web host because of its 90% discount and $0.80/month hosting for 48 months.
Most of the time, cheap options offer lower site performance – that's not the case here. They're one of the fastest hosts, with page load times clocking in under 380 ms. With their $0.80 plan, you get one website, one email address, 1 MySQL database, 10GB of disk space, and tech support.
Total cost: $38.40 for 48 months
2. The iPage Go Plan.
$1.99/Month for 36 Months.
iPage has been running its cheap $1.99 introductory plans for years now. They do have higher renewal fees at $7.99 to $9.99/month, so keep that in mind if you sign up.
iPage doesn't match the speed of other options, with page load times more than double those of Hostinger. Overall, they have a good feature set for a cheap host, with unlimited disk space, unlimited MySQL databases, and unmetered bandwidth.
Total cost: $71.64 for 36 months
3. Dreamhost Shared Starter.
$2.59/Month for 36 Months.
Dreamhost stands out from the other cheap choices because their renewal fees are the same as your intro offer. They also just upgraded this plan to include a free domain name, which used to cost $9.95/year.
You also get unlimited traffic and bandwidth, SSD storage, and WordPress pre-installed. Their site speed is also better than average, coming in under 750 ms.
Total cost: $93.24 for 36 months
4. HostGator Cloud Hatchling Plan.
$2.78/Month for 36 Months.
This plan has excellent performance for a cheaper host, with 99.98% operational time and load times under 450 ms. By purchasing their Hatchling Plan, you get one website, unmetered bandwidth and disk space, technical support, and a $100 Google/Bing Ads credit.
This plan renews at $6.95/month, which is a vast improvement over their previous renewal rates of $10.95 – $19.95/month.
To get these discounts, make sure to use promo code ADAMENFROY at checkout.
Total cost: $100.08 for 36 months
5. Bluehost Basic Shared Hosting.
$3.95/Month for 36 Months.
This plan is a good, all-around cheap web hosting option, with a good mix of features, security, and support.
With their Basic Plan, you get one domain, five parked domains, 25 subdomains, 50 GB SSD storage, and standard performance features. They also have some of the best speed at under 420 ms. This plan is currently 50% off and renews at its regular rate of $7.99/month.
Total cost: $142.20 for 36 months
Disclaimer: This article contains affiliate links that I receive a small commission for at no cost to you. However, these are merely the tools I fully recommend when it comes to hosting a website. You can read my full affiliate disclosure in my privacy policy.