15 Best Online Course Platforms (Ultimate Guide for 2020)
The e-learning and online course market are soaring to new heights and estimated to be worth $325 billion by 2025.
With the acceleration of online learning due to social distancing, this industry is experiencing huge growth.
Why not tap into this market and sell online courses? 
If you have experience in a field and want to share your knowledge with the world, all that you need to get started is an online course platform.
These online tools let you:
Create an online course website (or integrate your course within your existing website).
Price your course and collect payments (either one-time or in installments).
Create membership communities and webinars. 
Upload your videos, add assignments and quizzes, creating interactive content, and engage with your students.
Market your course to build your online presence.
So where do you get started and which platform is best?
After (a lot of) trial and error, I ranked and reviewed the 15 best online course platforms to use this year. I also provide the top ten ways to create and sell online courses.
This ultimate guide ranks and compares software based on reliability, features, marketing tools, profit potential, technical support, pricing, and more.
Let's get started.
Disclaimer: This article contains affiliate links where I may receive a small commission at no cost to you if you decide to purchase a paid plan. However, these are the tools I fully recommend when it comes to launching online courses and the commissions help me provide free content to my audience. You can read my full affiliate disclosure in my privacy policy.
What Are Online Course Platforms?
Online course platforms are types of learning management systems (LMS) that provide users with access to digital classes. These virtual courses are similar to offline classes in a lot of ways: an instructor provides an engaging educational experience through video, image, text, audio, and PDF files.
Students follow along with the LMS software, take notes, perform exercises, and complete exams to test their knowledge.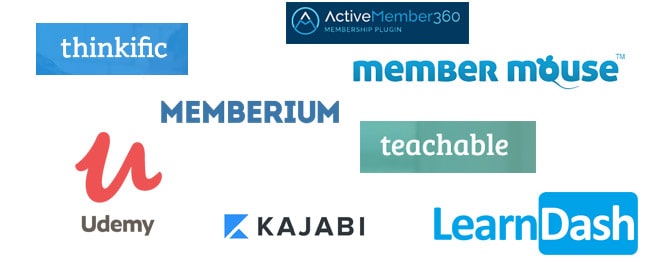 Source: foundertips.com
Tools like Teachable, Thinkific, Kajabi, Podia, and Ruzuku all feature a robust feature set for course creators.
Their course software includes a dedicated fully-responsive website experience, easy content uploads, the ability to edit the look and feel of the class, marketing features, course completion certificates, a sales funnel, and more.
If you're an educational institution looking to replace your on-premise classes with online learning, you can check out my other guide to the best learning management systems (LMS).
Course creators choose a platform to use, then charge their students a set fee to access their courses.
What Are the Best Online Course Platforms?
The best online course platforms give the freedom to spend more time teaching your students and automating your sales processes.
In my opinion, the best online eLearning platforms are Thinkific, Learnworlds, Teachable, Kajabi, LearnDash, and Podia.
To be successful, you need to be able to create, organize, and deliver your course content efficiently. You also need a platform that matches your unique needs.
For example, if you're looking to start a blog and sell online courses, look for the features that coaches would need like paid memberships, WordPress integrations, ecommerce capabilities, etc.
Here are my top picks for the best online course platforms to use this year.
What Are the Best Online Learning Platforms?
Now for the student's point of view.
With social distancing becoming the norm and many colleges moving to online classes, there are plenty of ways to educate yourself from home.
Often called massive open online courses (MOOCs), they are slightly different than paid platforms. Instead of hosting files yourself, courses are in a marketplace where students pay for them directly, or via a subscription.
The benefit for course creators is that you can leverage these websites to reach a new audience. The downside is you won't earn as much money per sale, and there is stiffer competition in the market.
Ultimately, I recommend using one of the providers above to sell courses.
If you're looking to sign up for a platform to learn new things, here are my picks for the best online learning platforms.
Shaw Academy is a platform that gives its students access to professional, accredited online courses. Students sign up for Shaw Academy and get access to all of their long-form courses.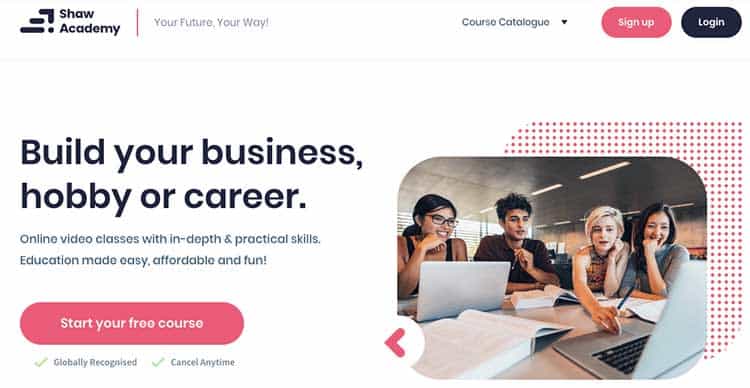 They offer courses in three distinct categories: for hobbyists, for professionals, and for entrepreneurs. 
For example, in their "For Professionals" category, they offer a globally-recognized Digital Marketing Course. This course includes 32 videos and takes an average of 16 weeks to complete.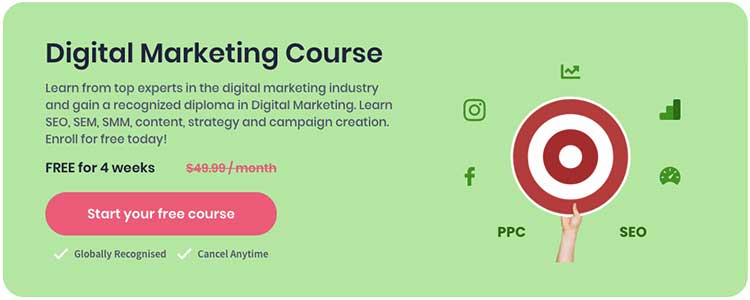 What Does Shaw Academy Cost?
Courses are offered for free for the first four weeks. You can then continue learning by paying for a monthly plan.
The cost then ranges from $49.99 to $60 per month.
Shaw Academy Pros
Their courses are all globally-recognized and offer certifications to help you in your career. If you're a working professional, their classes on digital marketing, project management, web development, Photoshop, and Microsoft Excel are very in-depth. 
Entrepreneurs can also access helpful classes on social media marketing, viral marketing, wedding, photography, etc.
Their courses are all flexible and you can complete them on your own time. They also offer helpful support and the ability to download class recordings to watch them offline. 
The four-week free plan is also a great bonus too.
Shaw Academy Cons
Although they offer a lot of good courses, you may not find the right one for you depending on your industry. They also don't have the same volume of hobby classes as platforms like Skillshare. 
Shaw Academy Review: Final Verdict.
If you're a professional looking for flexible, accredited courses that you can start completely free for 4 weeks, this platform is a great choice.