13 Best CRM Software of 2020 (Compared and Reviewed)
As competition for leads and sales grows, sales teams and business owners need a better way to track customers through every stage of the buyer journey. This is where CRM software comes into play.
Customer relationship management (CRM) software aims to nurture these customer relationships across various channels, ensuring an excellent experience for customers, and ultimately guiding them down the sales funnel.
CRM tools help manage and improve company interaction within a database by leveraging email marketing, lead nurturing, and marketing automation.
These tools also help sales and marketing teams improve their database marketing by sending personalized messages to the right prospects at the right time.
To make your decision easier, I ranked and reviewed the best CRM software based on features, integrations, sales capabilities, marketing tools, support, pricing, and more.
Let's get started.
Disclaimer: This article contains affiliate links that I may receive a small commission for at no cost to you if you purchase a plan. However, these are the tools I have vetted and fully recommend when it comes to CRMs. You can read my full affiliate disclosure in my privacy policy.
What is the Best CRM Software?
After using a ton of different CRMs across numerous tech companies and testing both small business CRMs and enterprise CRMs, here are my top picks for the best CRM software.
Customer relationship management (CRM) software is a type of online tool that helps organizations manage a sales pipeline all the way from lead generation to closing sales.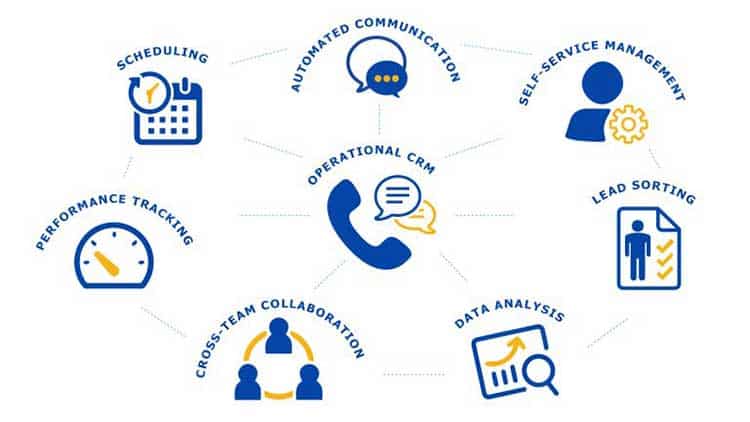 CRMs help companies access, organize, and make sense of customer data to generate more sales.
CRM collects information from various channels like social media, email campaigns, live chat, phone calls, personal interaction, feedback forms, and more. It further leverages data analytics to analyze the customer's buying history, patterns, and needs.
The aim is to enhance the customer experience and customer satisfaction, turning leads into customers, then nurturing and upselling that relationship.
CRM has been around for a long time (earlier in paper form), but the benefits of CRM systems became apparent after widespread digitalization.
CRM systems link various departments, including sales, marketing, HR, customer service, IT, business intelligence (BI), and finance. Furthermore, data is readily accessible by any employee in real-time, which empowers teams to quick, data-driven decisions.
Overall, CRM solutions have managed to connect interdepartmental teams and increase sales while removing business silos.
Questions to Ask When Choosing CRM Software.
Is this built for small business or enterprise?
Does this software integrate with the tools I'm already using?
How many user seats are provided and are there user minimums?
Would it be easy to train employees?
Are there set up fees and what is the total cost?
What type of security features are standard in the software?
Is the API accessible?
What Are the Benefits of CRM Software?
Here are some of the demonstrated benefits of using a good CRM for businesses of all sizes:
1. Improved Client Relationships and Customer Interactions.
CRM software allows you to streamline customer information and can help you generate insights, allowing you to serve your clients better.
2. You Can Cross-Sell And Up-Sell.
Armed with knowledge about customer choice and preferences, you can easily suggest the purchase of complementary products. On top of that, you can recommend other value-added versions of the product(s) that are pricier than the one your customer has bought.
3. Improves Collaboration.
Breaking away from silos, every member of the organization can access the same data in real-time, which can lead to enhanced collaboration between team members, as well as between the different sales and marketing teams involved.
4. Enhanced Efficiency.
Since you are privy to information like customer preference, choice, and purchase history, the client doesn't need to spend time explaining their requirements. You can capitalize on your knowledge, satisfy the customer, and enhance work efficiency.
5. Save Costs In The Long Run.
Setting up a CRM software can be costly, but it is a one-time cost. On the other hand, enhanced operational efficiency and collaboration leads to increased productivity, which lowers in the long run.
6. Increases Employee Involvement.
Employees feel empowered when they can access data, and it results in employees taking more ownership in the day to day work. Thus, CRM solutions naturally increase employee involvement.
How Do You Use CRM Software?
It is easy to start using CRM software, especially when you think about the benefits associated with it. For best results, you need to use it across all levels of your organization.
Here are some steps on how to use a CRM:
1. Add Sales Representatives.
Before you add anyone else, make sure you get your salespeople on board since they're most vital for your CRM tool.
Your sales team will ultimately rake in the revenue, and CRM is crucial for them to get more sales for the business. That's why you also need to ensure that they find it easy to use.
2. Segment Your Audience.
Every business is different, and there are different ways a company can segment their sales funnel. The most commonly used method is by dividing your potential customers into various stages like 'lead,' 'opportunity,' and 'customer,' which represents them from a company standpoint.
3. Import Your Contact List.
While many small businesses use different CRM systems for various uses, it's a good practice to use a single one. However, whether or not you're using a single CRM, you've got to import your data like the contact list, past deals, and other customer information. Almost all of the CRM systems tools allow CSV file uploads.
4. Third-Party Integrations.
The whole point of a CRM is to focus on the customer details and data through as many channels as possible. Therefore, you need a CRM software that provides abundant third-party integrations. Some of the essential integrations that you should be looking at are Amazon, Alibaba, Facebook, Twitter, Instagram, among others.
5. Create a Dashboard.
CRM systems have the power to simplify things for you by creating a dashboard. A dashboard lets you take control of everything you need to do by displaying it on the screen.
It's basically a visual, central control panel where you have access to all the functions of your business, and control anything you want at any time.
Here's an infographic that depicts what a typical CRM systems dashboard looks like: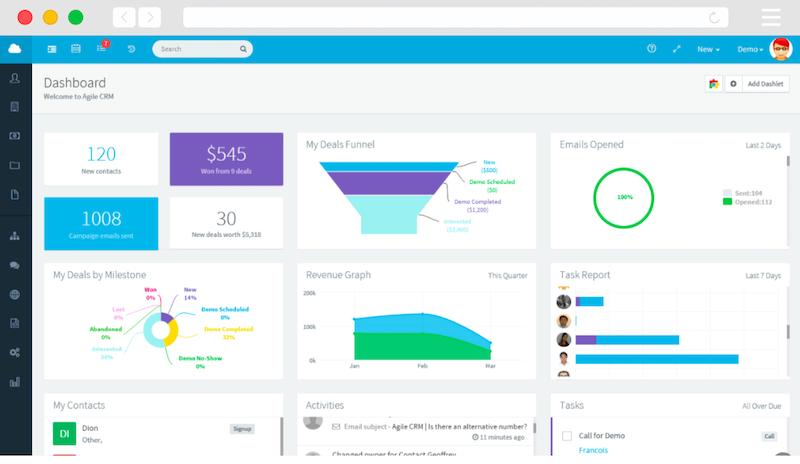 You can see and monitor project updates, task completions, statistics, visualizations, charts, and much more.
6. Create Reports.
The sales team makes money for the company. That's why you should provide them with as much information as possible, which will ease their job of selling the right value to the right customers.
Hence, it's a good practice to create reports at regular intervals, like weekly, quarterly, or monthly, and send them to the sales reps.
These reports help the sales reps to:
Evaluate their performance
Evaluate the performance of the team
Keep track of the targets they have achieved and the goals they're yet to achieve
Keep track of the comparative performance between colleagues (for bonus and incentive considerations)
The sales reps can then modify their performance accordingly.
There are a lot of CRM tools in the market, and all of them have their own strengths and benefits.
For instance, Zoho makes customer relationship management software easy and fun, while Insightly helps you focus on the project management side of things. On the other hand, Freshsales is renowned for its user-friendliness, and Nutshell is – in a nutshell, great for your sales team.
However, you know your business better than anyone, and it's for you to decide what it needs. Look at the value you're getting at a definite price point, and the outcome you're looking at.
Look at things like cloud vs. on-premise deployment, features and functionality, third-party integrations, ease-of-use, pricing plans, and more. Study all the facets before choosing the perfect CRM software for your business.
Which CRM software are you planning to use for your business? Let me know in the comments below.